VOCOlinc Latest Smart Cool Mist Humidifier - VHI-BPA Free
We are working hard to fulfill orders. Normal shipping is expected to resume by Dec.18
Smart Voice Control: Experience the convenience of smart voice control with compatibility for Alexa, Google Home, and Apple HomeKit. Simply ask your virtual assistant to adjust the humidity level to your liking, and say goodbye to fumbling with buttons.

Million Lighting Effects & Schedule: With over 16 million color options to choose from, you can customize the VHI to match your mood or decor. Plus, with the easy-to-use VOCOlinc app, you can create schedules for your lights to turn on or off at specific times, without the need for manual switching.

Auto-target Humidity: Featuring a built-in humidity sensor, the VHI automatically adjusts to maintain the ideal level of humidity in your home. Say goodbye to dry air and hello to comfortable, healthy air. And with its child lock feature, it's a great choice for households with children, plants, or pets.

Humidifiers for Large Room & 3 Mist Levels & Auto Shut-off: With a massive 2.5L water capacity and coverage up to 430 sq ft, the VHI can provide up to 12-20 hours of continuous use on a single fill. Customize the level of humidity to your liking with its three adjustable mist settings. And thanks to its automatic shut-off feature, you can enjoy worry-free operation.
Safe& Worry-free: The water tank material is PP and the remaining part is ABS. BPA free. Safe and worry-free use.

Top-fill Design & 2 in 1 Diffuser: The VHI's top-fill design allows for easy access to the tank, making cleaning a breeze. Plus, it doubles as an aromatherapy diffuser. Simply add your favorite essential oils to the water tank and let the VHI do the rest.
Upgrade your home with the VOCOlinc Smart Cool Mist Humidifier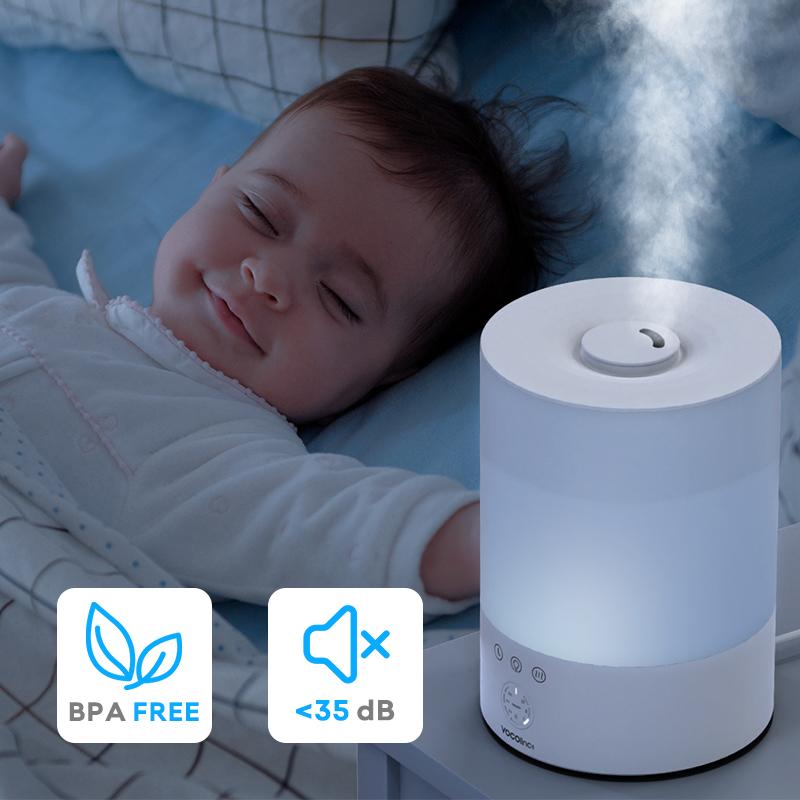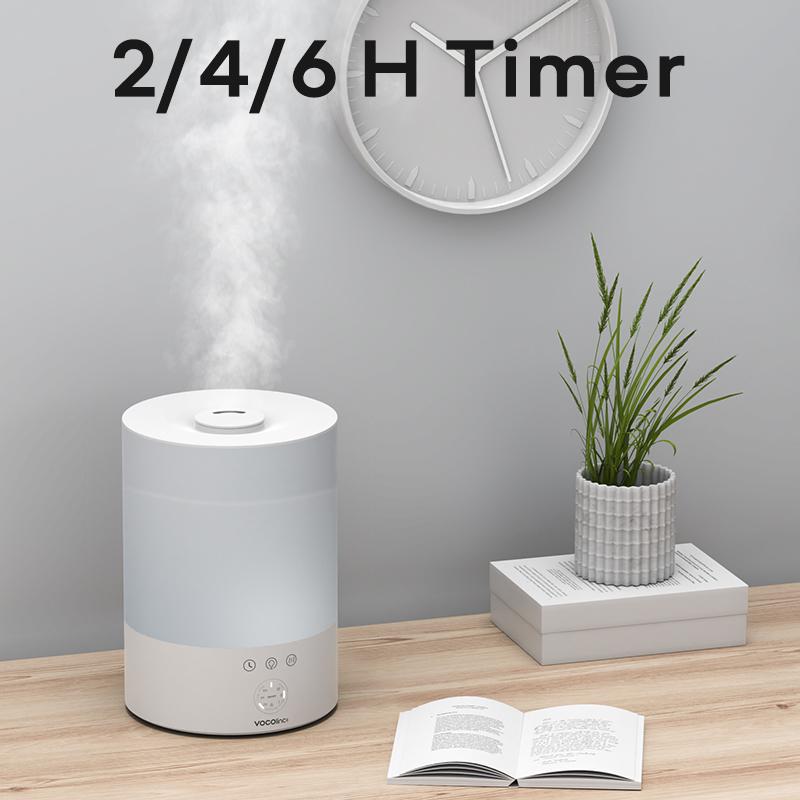 VOCOlinc Latest Smart Cool Mist Humidifier - VHI
smart humidifier for a healthy indoor climate
As someone who values a healthy indoor climate, I was looking for a smart humidifier for my bedroom. I discovered the VOCOlinc Smart Humidifier and am pleasantly surprised.
The 2.5 liter capacity is great. The humidifier can run for a long time without me having to keep adding water. This is especially handy for use in larger rooms or if I want to run the humidifier overnight.
The ability to set the target humidity is a great feature. The humidifier measures the humidity in the room and automatically adjusts its operating modes to achieve the desired target humidity. This ensures an optimal room climate and helps to avoid dry air.
The child lock is another highlight. It ensures that small children cannot accidentally adjust or open the humidifier. This gives me an extra sense of security, especially when the humidifier is used in the child's room.
The 16 million colors of the LED lighting are a nice touch. I can adjust the humidifier to my mood or create a comfortable atmosphere in the room. It's also nice that I can control the colors via the smart home integrations like Apple HomeKit, Alexa or Google.
The operation of the humidifier is quiet. Even if it's running in the bedroom, it doesn't disturb my sleep or rest. I can enjoy the benefits of an optimal indoor climate without being disturbed by noise.
Compatibility with Apple HomeKit, Alexa and Google is a big plus. I can easily control the humidifier using my existing smart home devices and create automated scenarios. This makes operation even more convenient.
Overall, I am extremely satisfied with the VOCOlinc Smart Humidifier. It offers a high capacity, an individually adjustable target humidity, child lock, a wide range of colors, quiet operation and easy integration into my smart home system.
Easy to use humidifier
Setting up the humidifier is easy. The packaging it came in is simple and easy to get open, so really easy as pie.
A little plastic wrap around the power supply and the product itself.
Be sure to fill with water before connecting. Once connected, you can start using the small "touch buttons". Here the strength and the time can be regulated in 2 / 4 / 6 hours. It is a bit louder at the highest level, but can hardly be heard when the TV is on or in a noisy environment.
In addition, the setup with Apple HomeKit (QR code on the power connection) allows you to easily control the LEDs and manage them accordingly with Siri (tested), Alexa and Google.
Setup and connection under 5 minutes!
Hochwertig - Timer - Modern - Elegant - Sch?nes Design - Smart - 2,5 Liter - Luftbefeuchter
Der VOCOlinc Smarte Luftbefeuchter Schlafzimmer 2,5L fr Pflanzen Baby, mit Zielfeuchtigkeit Eingestellt, Kindersicherung, 16M Farben, Leiser Betrieb ist in einer mittleren Verpackung geliefert und wurde gut gepolstert verpackt. Im Lieferung ist der Raumbefeuchter, ein Netzkabel und eine Anleitung in mehreren Sprachen (siehe folgende Liste) enthalten. Das Ger?t ist sehr hochwertig und gut verarbeitet. Direkt beim Auspacken muss man einfach das Wasser in den Beh?lter machen und einschalten, sobald es an einer Stromquelle ist. Es passen ungef?hr 2,5 Liter in den Beh?lter. Die Bedienung ist einfach und intuitiv. In den Raum Befeuchter kann auch ?therische ?le zum Entspannen reingemacht werden. Das Ger?t l?sst sich nicht drehen. Weiter hat es eine Timerfunktion womit man es in 2, 4, oder 6 Stunden laufen lassen kann. Die Smart Funktion ist zwar eine nette Erweiterung, fr unseren Anwendungsfall ist es nicht notwendig. Man kann das Ger?t sch?n ber Alexa oder Google Assistant steuern. Das Highlight dieses Ger?t ist die Farbeinstellungen dieses Ger?tes. Fr Allergiker ist das schon eine gro?e Hilfe. Ich bin zufrieden damit.