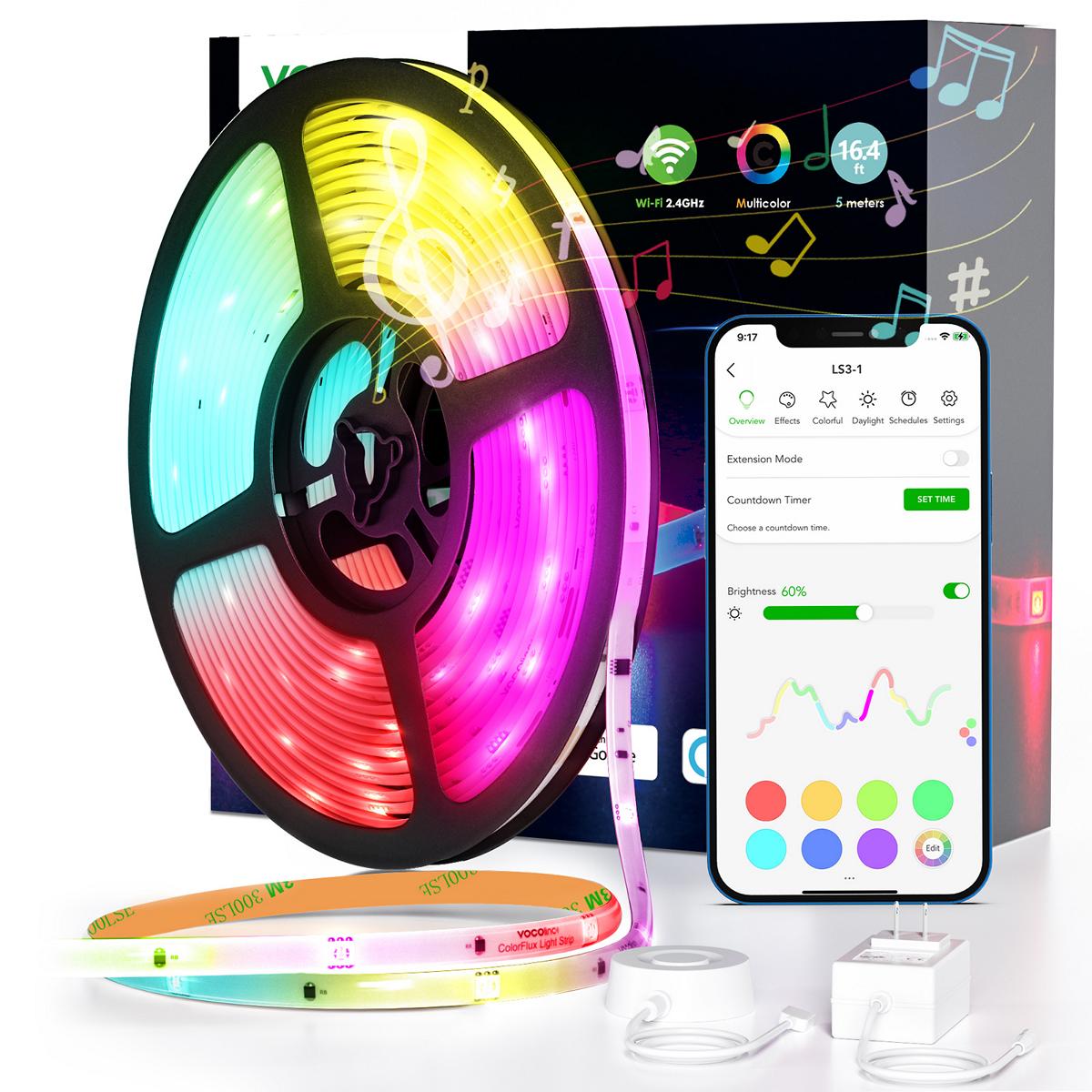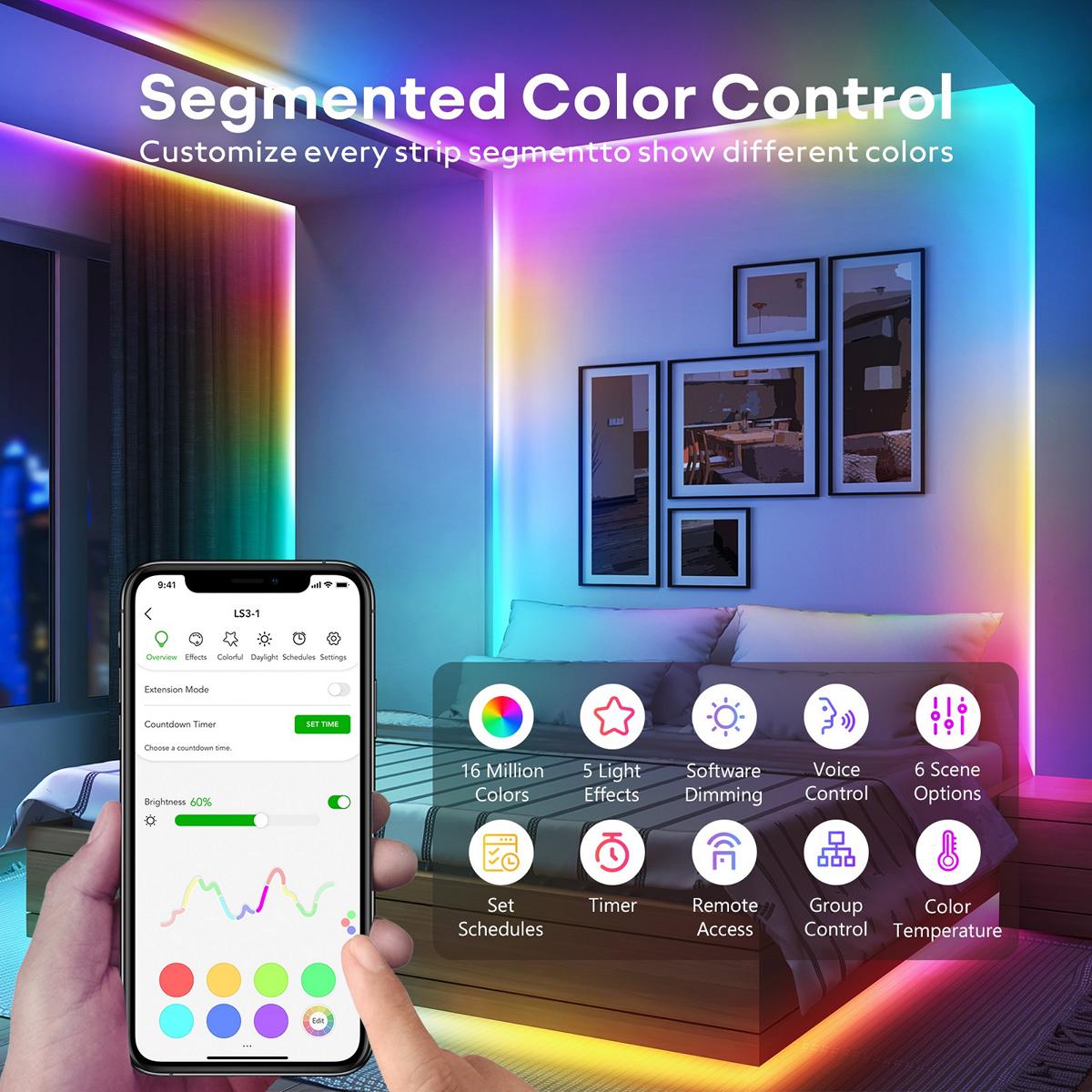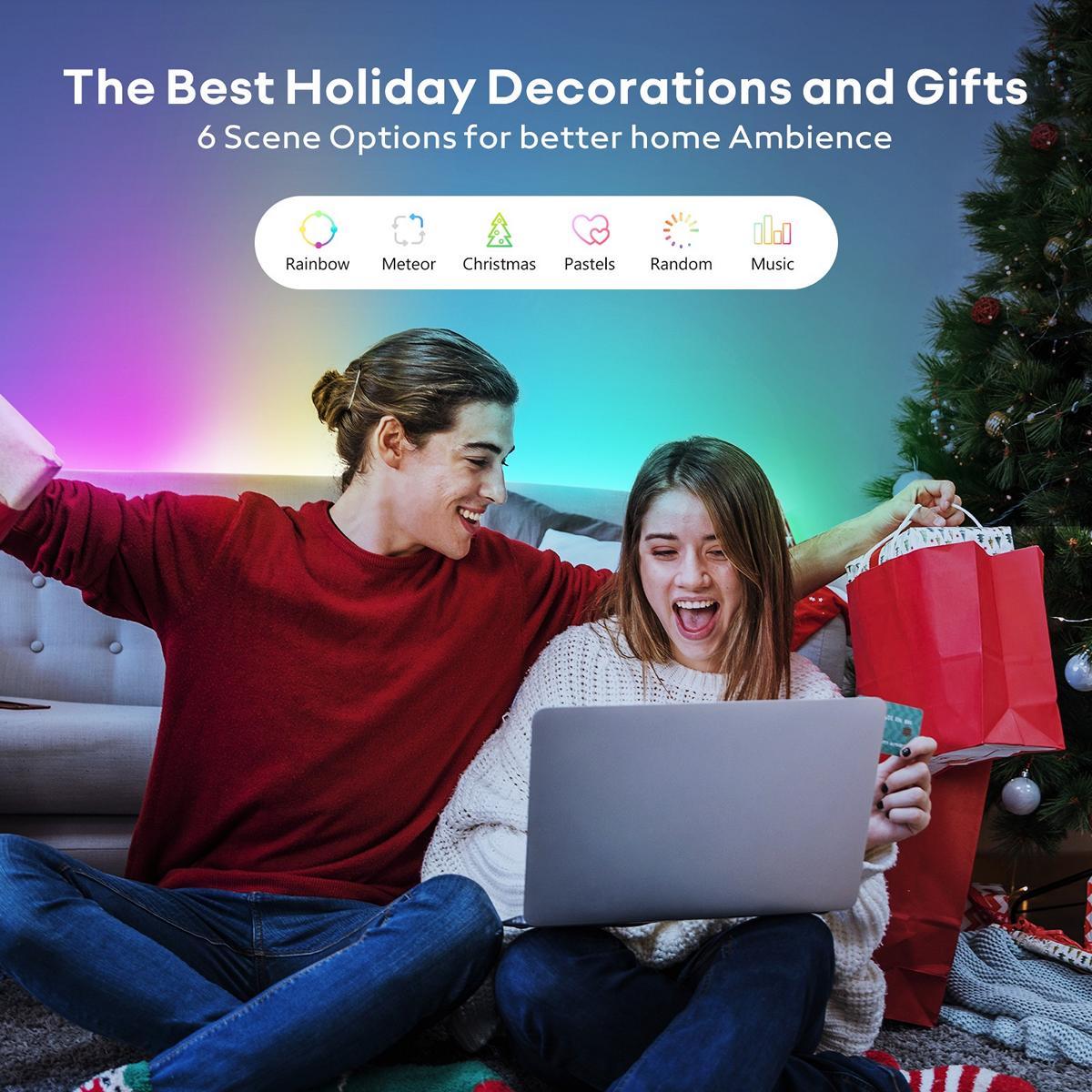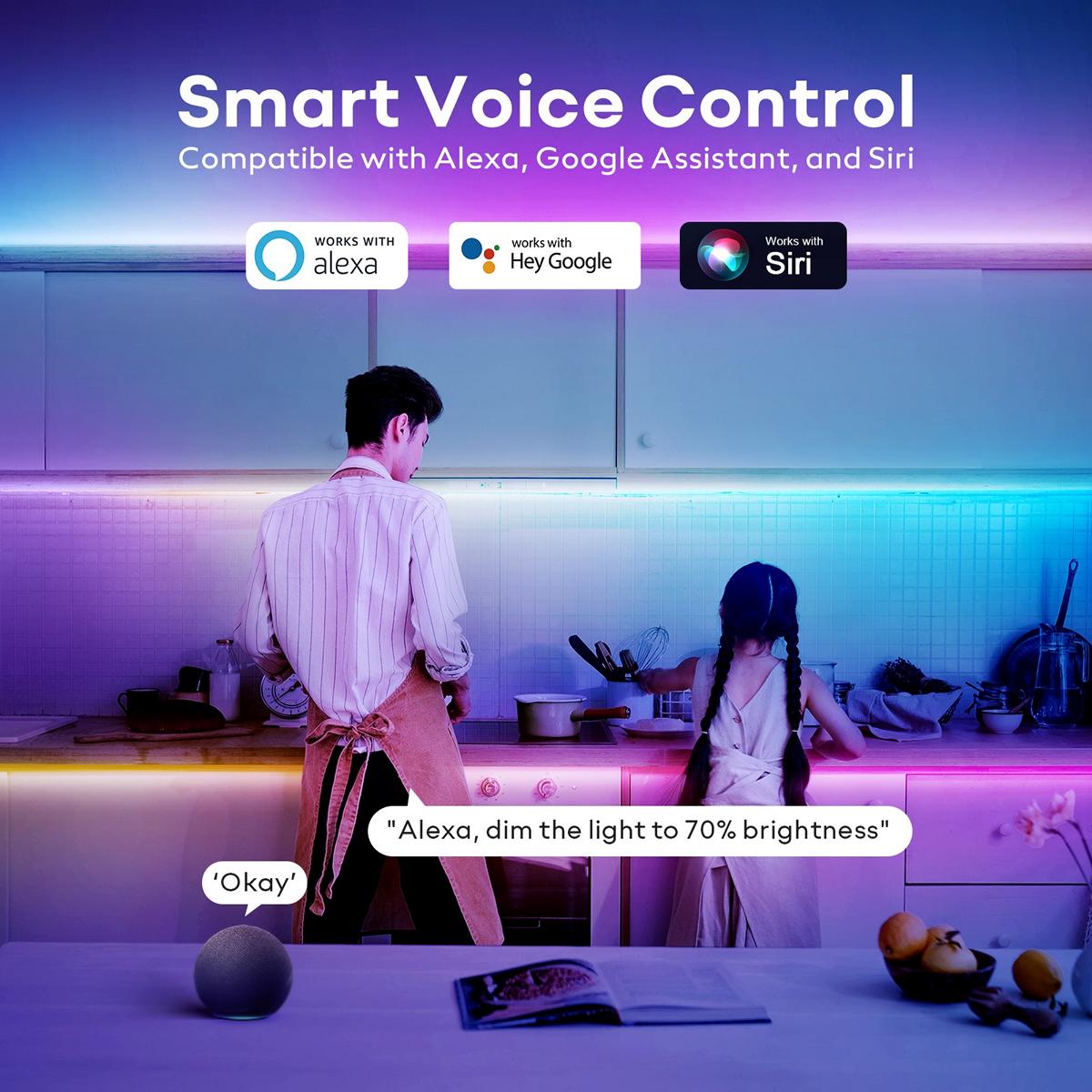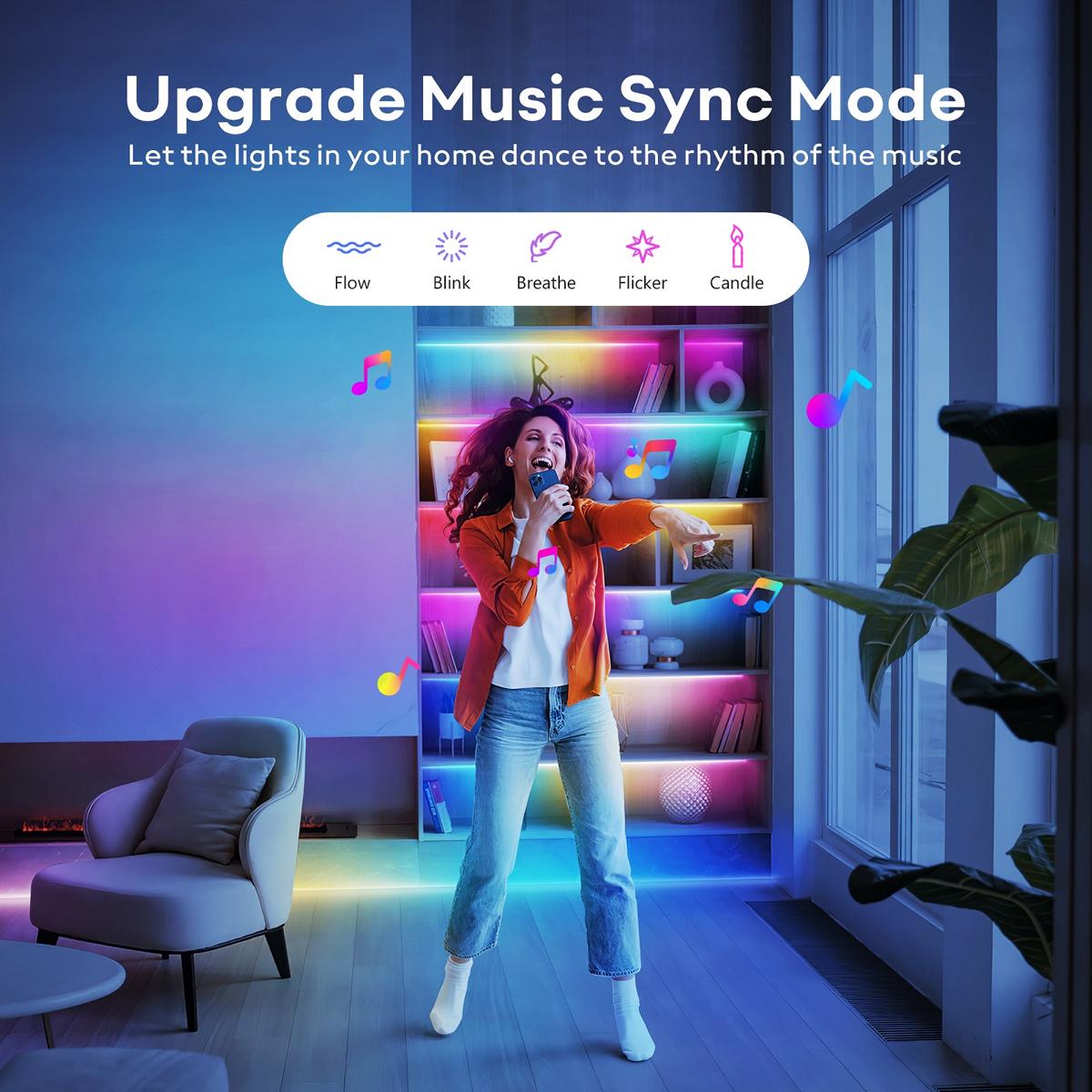 VOCOlinc RGBIC SmartGlow WiFi LED Strip Lights - LS2201-16.4 ft
We are working hard to fulfill orders. Normal shipping is expected to resume by Dec.18
【Brilliant RGBIC & 16 Million Colors】
Compared with traditional RGB strips, the new RGBIC technology allows multiple colors to be displayed on the LED strip simultaneously and displays flowing animation effects based on Christmas, nature, shooting stars and rainbows. (Creative DIY 16 million colors).
【Hands-Free Voice Control & APP Remote Control】
The VOCOlinc LED light for the bedroom compatible with Apple HomeKit, Alexa and Google Assistant
. (For example: "Alexa, set the light to 50% brightness"). Support APP remote control; control the smart led strip lights via APP anytime, anywhere. (Only support 2.4GHz network)
【Stickiness upgrade & Protective Coating】
 Due to customer feedback that LS3 backing is not sticky enough, VOCOlinc LS2201 is now upgraded with better sticky 3M adhesive with multiple clips for enhanced stability. It can be easily attached to your bedroom, kitchen, TV, playroom, living room, etc. The Smart LED Strip has also been upgraded with a protective PU coating, making the strip IP54 water resistant.
【Music Sync Mode & Million Lighting Effect】
Built-in high sensitivity microphone with 4 music modes. LED lights change color and flash speed with rhythm and melody, making your color-changing LED strip dance in your home. You can also DIY different lighting effects through the APP, allowing you to switch the right theme lighting according to different scenes to create the perfect atmosphere.
【Stepless Dimming & Adjustable Color Temperature】
 supports brightness adjustment from 0% to 100%, allowing you to customize the brightness according to your needs. The color temperature covers from cool white to warm white, allowing you to adjust the color temperature from 2200K to 7000K. Provides you with comfortable light to protect your eyes.
【Schedule & Timer & Group Control】
The schedule function helps you present your favorite color and brightness to turn it on automatically. It can be used as a light alarm clock to set the LED light bar to brighten when you wake up and gradually dim as you drift off to sleep through modes like sunrise and sunset. You can also use the group control function in the app to centrally control multiple 16.4ft RGB+IC led strip lights.
Shipping:
The product will ship 1-3 business days after purchase, and delivery will take 4-8 business days. All orders will be dispatched from our EU warehouse.

Refund:

30-Day Refund Policy

For any reason, undamaged products can be fully refunded within 30 days after the delivery date to the shipping address. Once the item is returned to Vocolinc's warehouse for inspection, the refund process will begin.

Please go to the footer menu to view the shipping policy and return policy.
Add Colors To Your TV Show & Music
Sync with your favorite shows to the LED strip for a more colorful audio-visual experience.
DIY Colors and Enjoy Exciting APP Features
6 Scenes Options to fit room ambience, enjoy Lighting Colors and colorize yourself
Mood lighting for Room
Whether you're throwing a birthday party, celebrating Christmas, or hosting a watch event, our LED Strip Lights will enhance your surroundings in invigorating colors.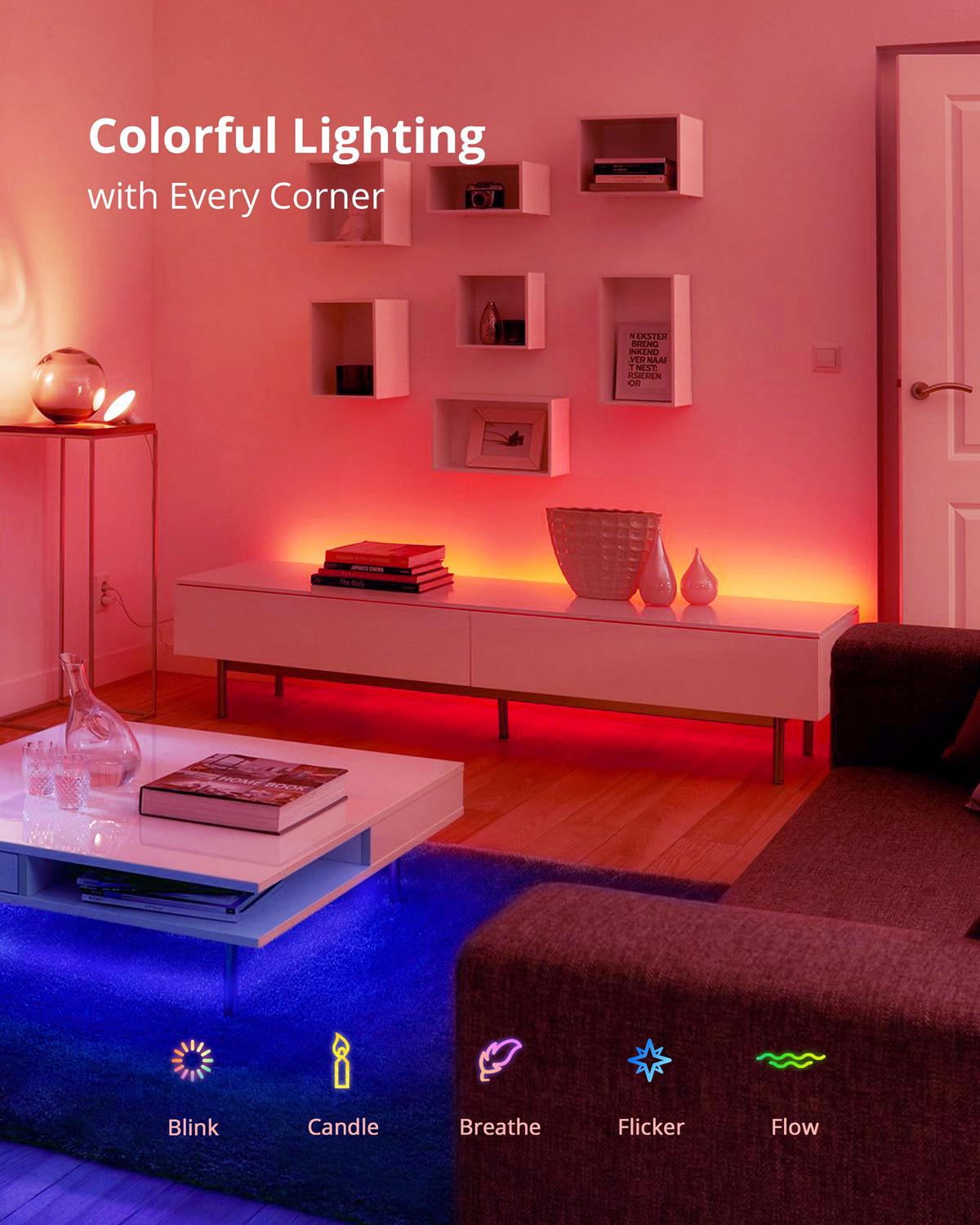 VOCOlinc RGBIC SmartGlow WiFi LED Strip Lights - LS3-16.4 ft
Superior Quality at a Great Price!
Ordered two sets of the LS3 and they are fantastic!
Will be buying more!
Only been installed for a few hours but so far are working faultlessly. Connecting to HomeKit was seamless and practically instantaneous. I am really impressed with these lights and will definitely be buying some more.
Work well!
These lights work very well and are nicely compatible with my Apple HomeKit. The 3M adhesive on the back could be more sticky, you will most likely need to install the anchors that are provided in the packaging or use additional clear tape.
Super Ledband
Allles Top Farbst?rke , App Bedienung. -1 Stern fr die Klebestreifen :( . die haftung auf holz (Kasten) ist mieserabel :(