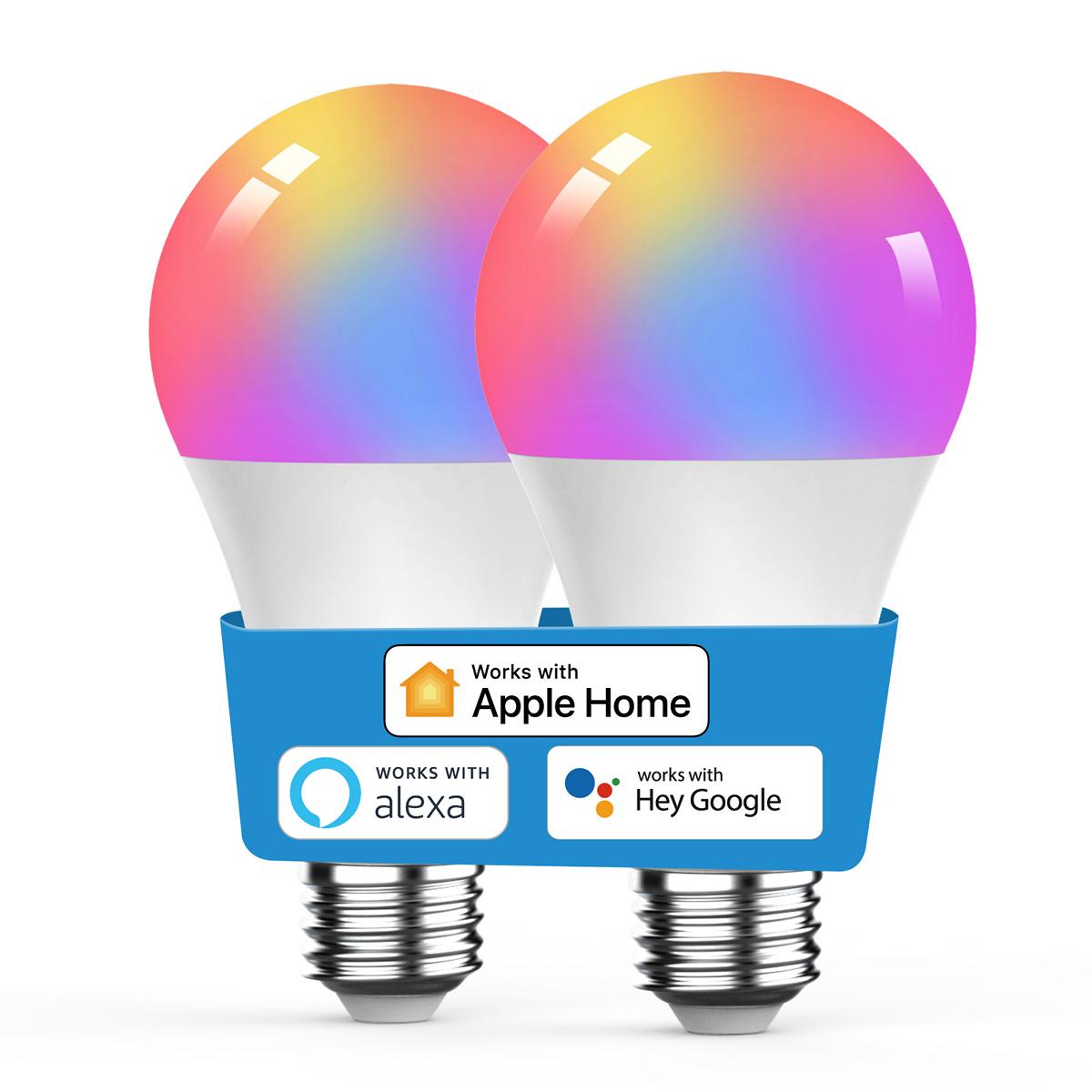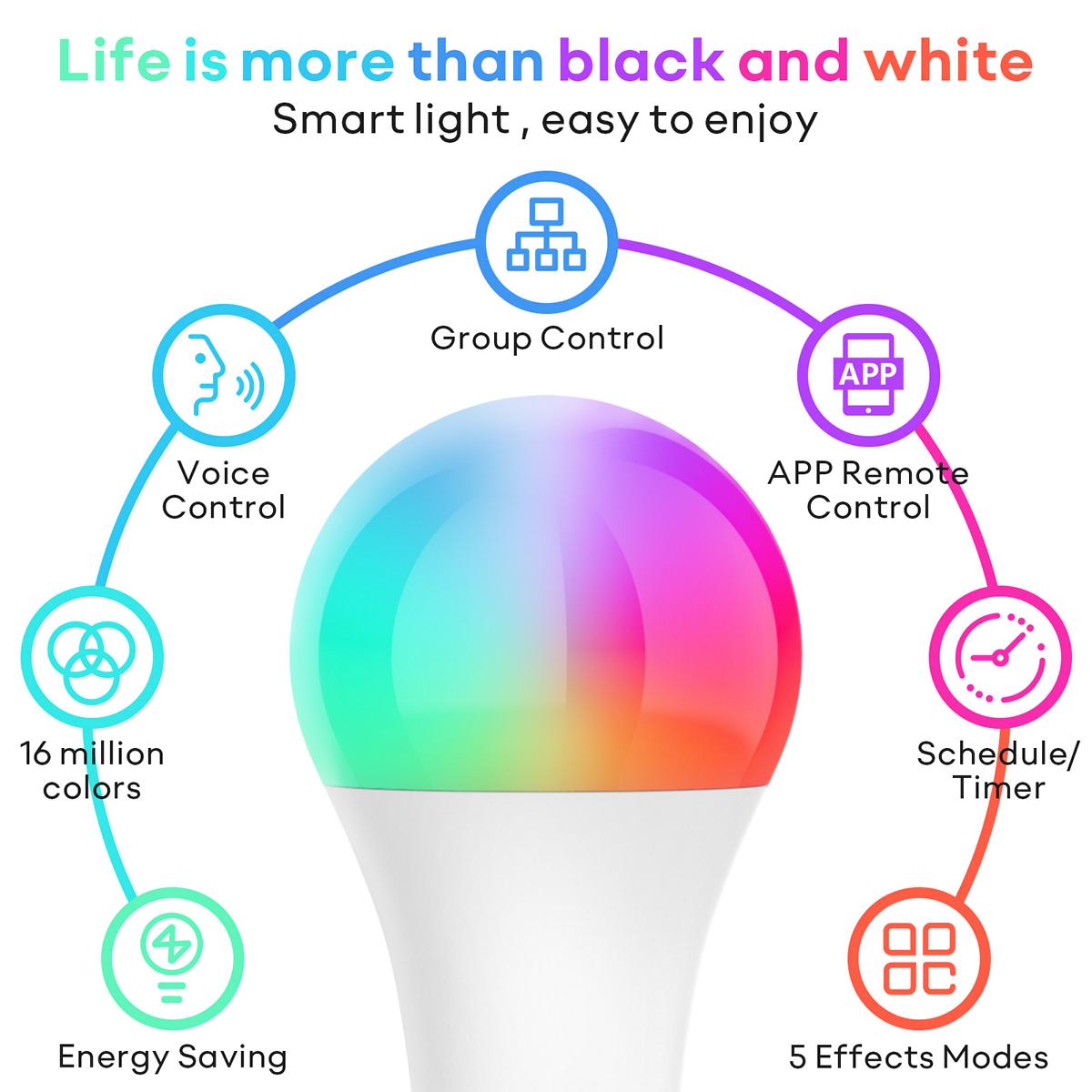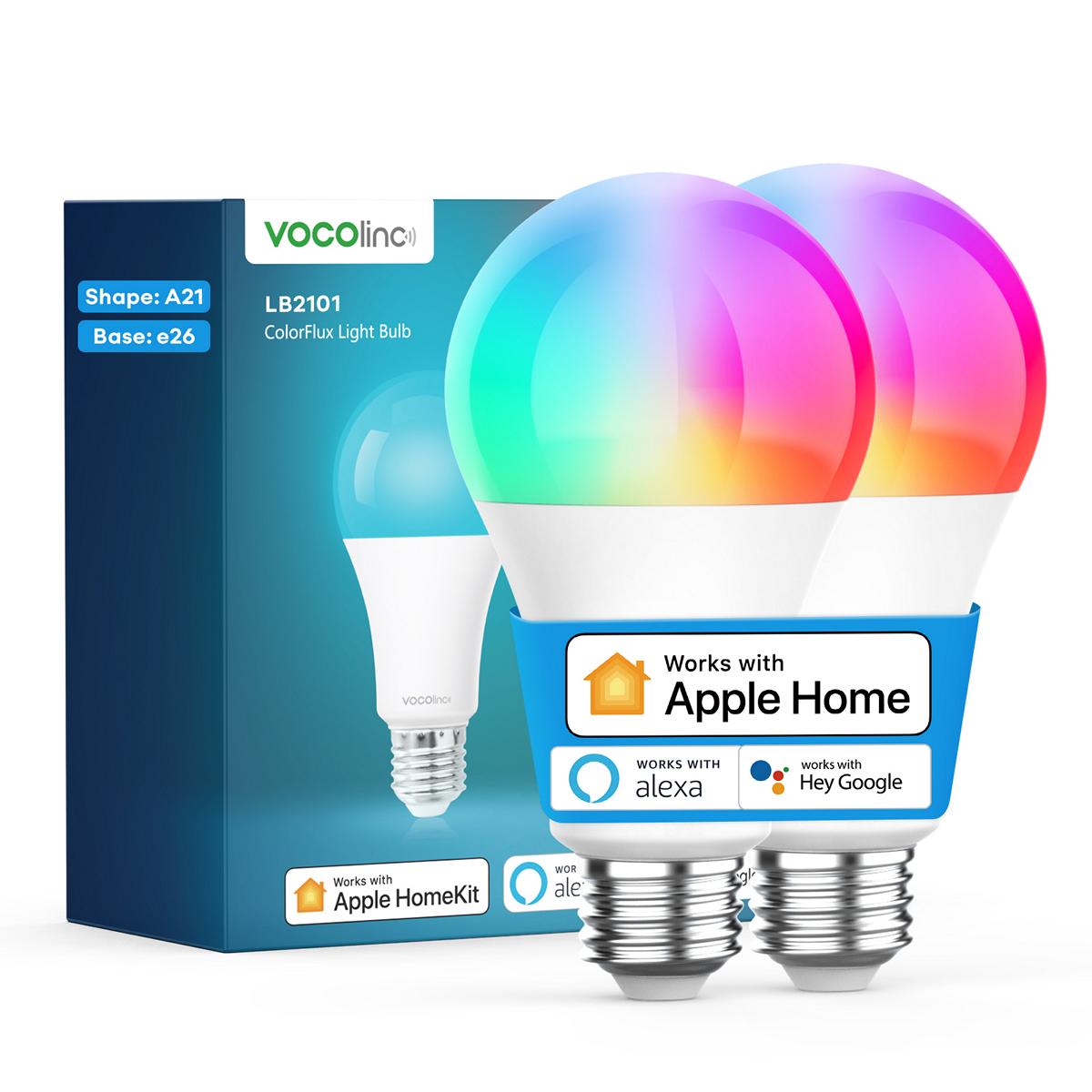 VOCOlinc SmartGlow WiFi RGBIC Ambiance LED Light Bulb-LB2101 2Packs
We are working hard to fulfill orders. Normal shipping is expected to resume by Dec.18
🔊【Voice Control】VOCOlinc smart bulbs work with Apple HomeKit, Alexa, and Google Assistant. Without manually turning the light switch on and off, you can control your lights with your voice via Siri, Alexa, or Google Now in many scenarios.
📋【APP Remote Control】Even if you are not at home, you can control your Alexa bulb (with 2.4GHz WiFi) directly through the app. You can control your connected bulb individually or in groups.
💡【Fully Color Changing Bulb】Dimmable smart LED bulb supports 16 million colors from warm white to cool white (2200K-7000K). Set your bulb to automatically adjust its color temperature to match the natural light pattern from dawn to dusk. Perfect for decorating your home for a festival like Halloween or Christmas.
✨【Energy saving】E27 WiFi smart bulb is made of plastic coating with good heat dissipation. The 8.8W 806Lm LED lamp is equivalent to traditional 60W incandescent lamps, saving up to 80% energy and working about 25,000 hours.
🕒 【Timer Setting】 The VOCOlinc smart bulb has a timer setting function. It will turn on and off automatically according to the preset time. This allows you to save more on electricity costs.
⚠【Tips】Download the Vocolinc app if you want to use it with Alexa, Google, or Apple on multiple third-party devices. VOCOlinc App > User > Connect to Third-Party Providers > Link to Alexa/Google Home.
🔔【Customer Service】 If you are unsatisfied after receiving the product, we provide 24-hour email and return service.
Shipping:
The product will ship 1-3 business days after purchase, and delivery will take 4-8 business days. All orders will be dispatched from our EU warehouse.

Refund:

30-Day Refund Policy

For any reason, undamaged products can be fully refunded within 30 days after the delivery date to the shipping address. Once the item is returned to Vocolinc's warehouse for inspection, the refund process will begin.

Please go to the footer menu to view the shipping policy and return policy.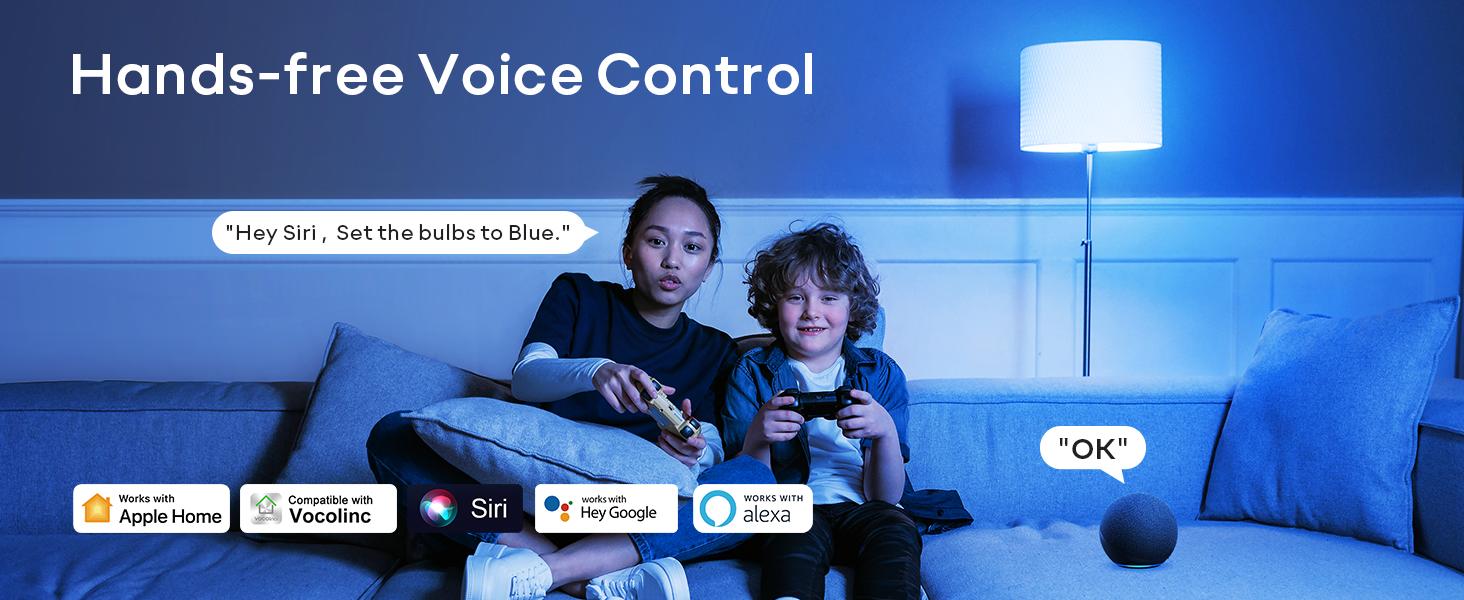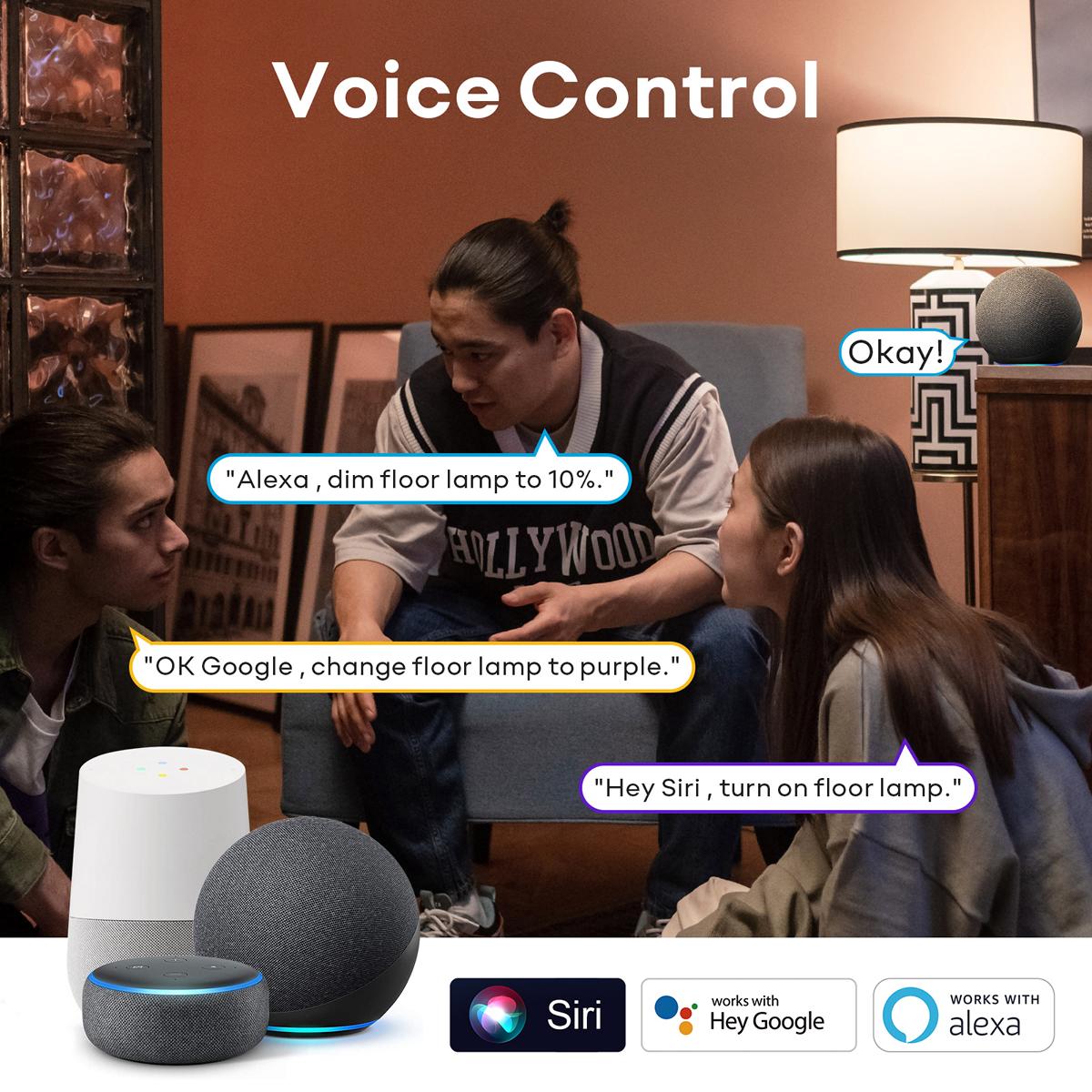 Voice & VOCOlinc App Control: VOCOlinc smart light bulbs work well with Alexa, Google Assistant, and Apple HomeKit, Control your smart light bulb via voice commands to turn your smart bulbs on/off, create colorful mood scenes, like" Alexa, Turn off my smart ambient lights"."Hey google, dim the led lights to 50%", The VOCOlinc app supports both iOS and Android.
No Hub Required: Connect to your home's secure 2.4GHz WiFi network directly (not support 5GHz); No need for a smart hub or extra equipment. All you need is your smartphone, the VOCOlinc Home App, and a 2.4GHz WiFi router to start controlling your smart lights from anywhere. Create the lighting effects you like and adjust the brightness as needed(blink, breath, blink, flow, candle, and scene mode).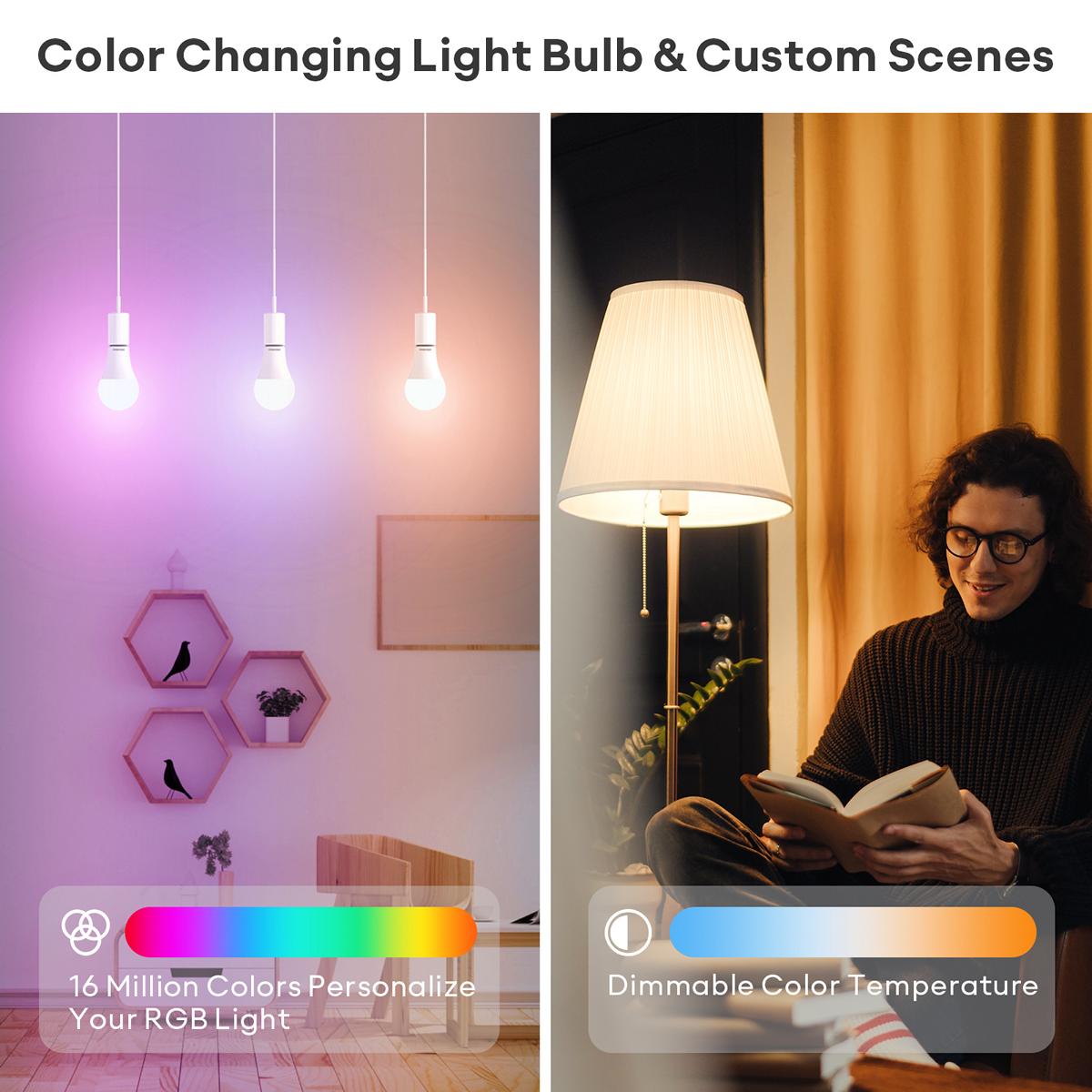 Multi-scene Use and Tunable White: Set your bulb to automatically adjust its color temperature to match natural light patterns from dawn to dusk. With 16 million colors of dimmable light, enjoy clear and brilliant warm white (2200K) or cool white (7000K) anywhere in your home. Great for holiday decorations. Smart led light bulbs to make your life more colorful.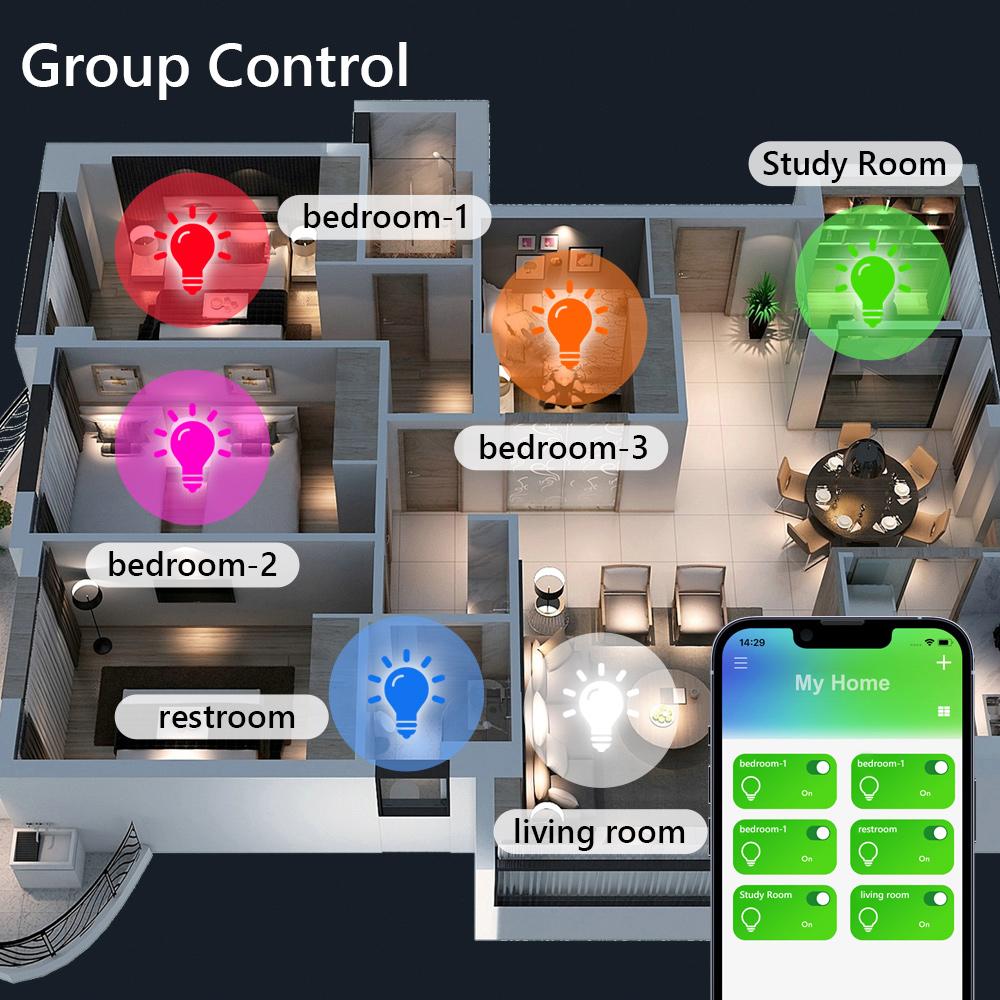 Full Accessibility From Anywhere
Easily manage multiple bulbs all at once, ensuring that your home is always perfectly lit to your liking. Full accessibility is at your fingertips, no matter where you are! Say goodbye to complicated and time-consuming light bulb management, and say hello to effortless Group Control!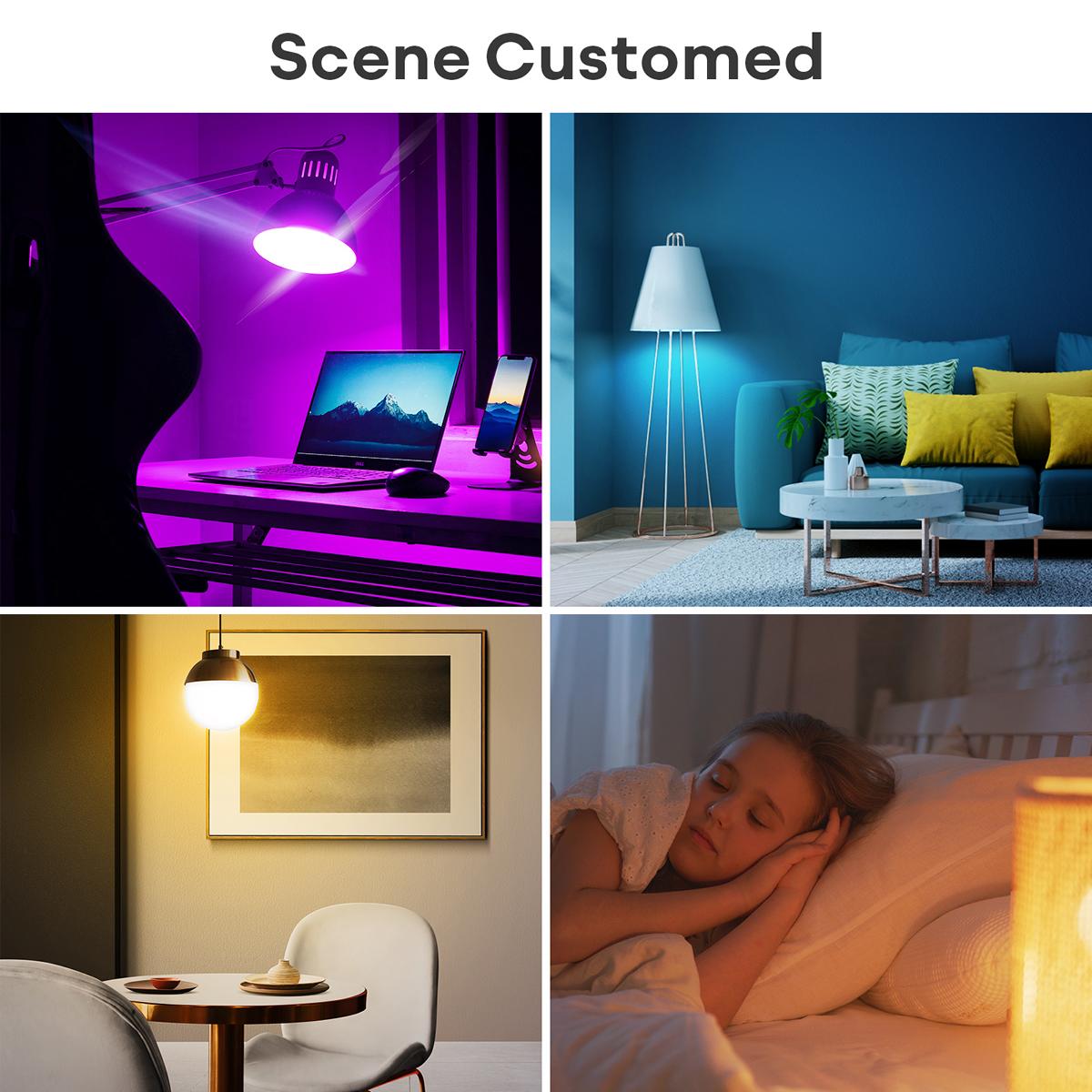 Customer Service: VOCOlinc is a company focused on the design and development of smart homes and smart devices, any of your valuable advice we attach great importance to, because only then we can continue to keep growing, but also in the customer's opinion to gain experience, and then design and develop more innovative and novel products,if you are not satisfied after receiving the product we provide 24-hour Email service and return service.
Excellent
Really easy to install with Homekit no issues with connection.
Perfect smart bulbs
The bulbs are easy to connect to Apple Home App. Also with the VOCOlinc App you have much more settings for light, so I love it. Colors are vibrant and you can easily choose all tones that you need. Candle effect is perfect for table side lamp.
The best Smart bulb Ever
Installation is such a breeze on my Apple Home Kit app. You can re-name the bulbs however you want it and automation is also very easy to set. Another thing I love about this is that the QR code for installing is printed directly on the bulb itself. Then you don't have to worry if you lose the accompanying paper that comes with other smart bulbs when you need to re-install it. So smart!
Works great with HomeKit. No issues
Easy set up. Plenty bright. No issues or complaints. Bulbs are a little larger than normal but still fit into my ceiling light cover.
Works great with Apple HomeKit
Like all other Vocolink products I have, it works great with Apple HomeKit.
Sets up in less than 2 minutes, no hub needed.
Definitely recommend.