VOCOlinc Smart Wifi Light Bulbs- GU10-6 Packs
We are working hard to fulfill orders. Normal shipping is expected to resume by Dec.18
【APP Remote Control】
Compatible with Google Assistant, Alexa and Apple HomeKit.
Even if you are not at home, you can control your Alexa light bulb (with 2.4GHz WiFi) directly through the application. You can control your smart bulb individually or in group control.
【Smart Voice Control】
The GU10 smart bulb is compatible with Apple Home kit, Alexa and Google Assistant. You can control the bulbs by voice, e.g. turn the lightbulb on or off, adjust light intensity or change color, etc.
【RGBCW + Warm White + Dimmable】
Create a perfect ambiance or decorate your home with 16 million colors, brightness up to 350 lm (50-watt halogen equivalent), and create an ideal atmosphere for your space with continuous dimming.
【Schedule On/Off】
Set timers to turn your lights on or off automatically at the preset time. Don't worry if you forgot to turn off the light.
【Energy Saving + Group Control】
Vocolinc GU10 Smart Bulb can preset the color when turning on the light and control different bulbs in groups. The daylight function simulates the color temperature of daylight according to the set time and color temperature.
【Customer Service】
If you are not satisfied after receiving the product, we provide 24-hour email service and return service.
Shipping:
The product will ship 1-3 business days after purchase, and delivery will take 4-8 business days. All orders will be dispatched from our EU warehouse.

Refund:

30-Day Refund Policy

For any reason, undamaged products can be fully refunded within 30 days after the delivery date to the shipping address. Once the item is returned to Vocolinc's warehouse for inspection, the refund process will begin.

Please go to the footer menu to view the shipping policy and return policy.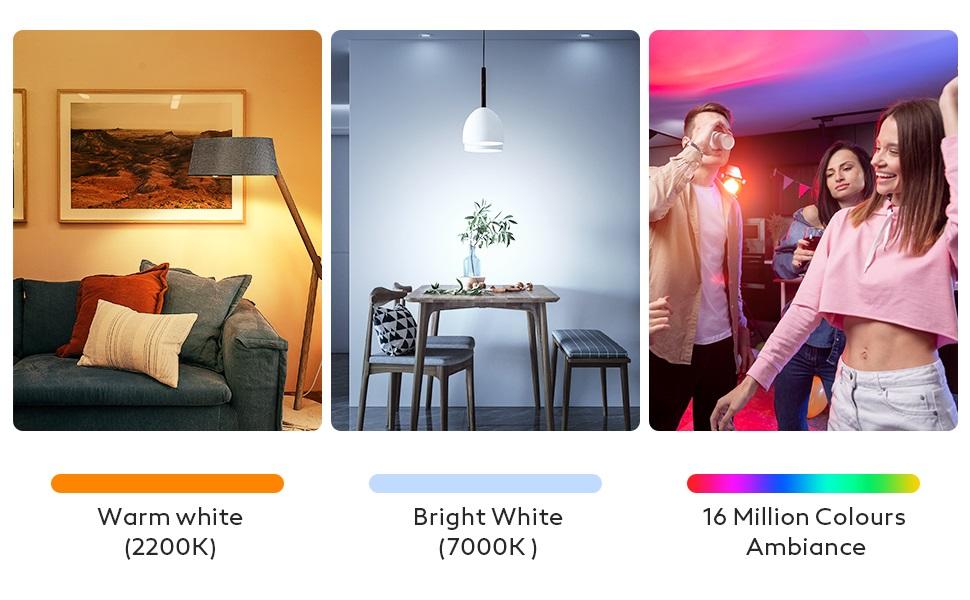 Good smart bulbs with some connection problems
I like these light bulbs and I have some experience with VOCOlinc bulbs, so I've changed all the lighting in my home to different types of bulbs of this company. Now I sometimes see that bulbs lose connection, so you need to reconnect them with power switcher. It's not really good if you have 9 of them in the flat. But I think that it can be Wi-Fi connection problem. Although I love these bulbs and all other VOCOlinc products as well.
Delivered as promised
Light bulbs work very well. Set up was very easy. Altho my internet speed with 15 homekit devices has slowed down after installation.
Super GU10 LED Spots mit Einbindung in Homekit
Die Installation war denkbar einfach:
Fr meine Deckenleuchte ben?tigte ich drei GU10-LEDs: ich habe einfach die LEDs eingeschraubt und mir gemerkt, welche drei der vier gelieferten LEDs nun in der Decke h?ngen und dann nach dem Einschalten des Lichtschalters mit Hilfe der mitgelieferten QR-Codes in die Vocolinc App eingelernt. Dadurch wurden diese auch automatisch in ?Home installiert.
Ich habe die drei LEDs dann als Gruppe definiert, damit ich sie leichter gleichzeitig steuern kann. (Siehe Screenshot)
Die LEDs leuchten auf Wunsch in allen m?glichen Farben - mir waren in erster Linie die unterschiedlichen warmen Wei?t?ne und die M?glichkeit zu Dummen wichtig. In Home gibt es vordefinierte Schnellauswahltasten. Diese k?nnen auch individuell angepasst werden, damit man schnell und einfach die Lieblings-Farben aktivieren kann. Es gibt auch ein adaptives Programm, bei dem die Helligkeit und die Lichtfarbe gem?? der Tageszeit automatisch angepasst wird. Nett, aber fr mich eher Spielerei.
Mich haben die Dimmfunktion, die unterschiedlichen Farben und die Steuerbarkeit mittels Home berzeugt. Kann die LEDs nur ?w?rmstens empfehlen.
Die LEDs leuchten fr meine Zwecke hell genug - sofern man allerdings einen Raum extrem hell beleuchten will, sollte man sich ggf. nach einer Alternative mit mehr Lumen umsehen.