【Voice Control】: VOCOlinc smart plugs work with Apple HomeKit, Amazon Alexa, and Google Home. By simply using voice commands, your chosen voice assistant. Will turn on / off the connected electrical devices. The status will be instantly synchronized across all smart home ecosystems.

【Energy monitoring】: VOCOlinc VP3 smart WiFi socket with power monitor can monitor the consumption of connected devices, and you can see the power consumption of your devices at any time in the app.

【Multifunction plugs】: Set schedules or timers, group control, auto reset mode (e.g., router recycling), create scenes, and automation settings. We recommend using the VOCOlinc app for a better product experience.

【Remote Access& App Control】: Check status, monitor, set schedules, and more from almost anywhere with the internet via the VOCOlinc app, even if you are not at home. An Apple home hub (Apple TV / HomePod) is required for the HomeKit remote control.

【Common devices and group control】: Use WiFi plugs to create groups and turn electrical devices such as lights, floor lamps and humidifiers on or off with just one click. Best of all, your family can also control the devices connected to the smart socket and share a smart life.

【Quality and Safety (2300W)】: the VOCOlinc VP3 socket is made of flame-retardant PC material and has been approved for safety and quality assurance. Certified by CE and ROHS and supports household appliances up to 10A. If you have any questions, you can contact us by email, and we will reply within 24 hours.

【Tips and Hassle-Free Service】:
1)The WiFi plug is only paired with secure 2.4 GHz WiFi networks;
2) For Android OS 4.3+, the latest iOS version is recommended;
3) Use the VOCOLinc app to keep your firmware up to date.
Shipping:
The product will ship 1-3 business days after purchase, and delivery will take 4-8 business days. All orders will be dispatched from our EU warehouse.

Refund:

30-Day Refund Policy

For any reason, undamaged products can be fully refunded within 30 days after the delivery date to the shipping address. Once the item is returned to Vocolinc's warehouse for inspection, the refund process will begin.

Please go to the footer menu to view the shipping policy and return policy.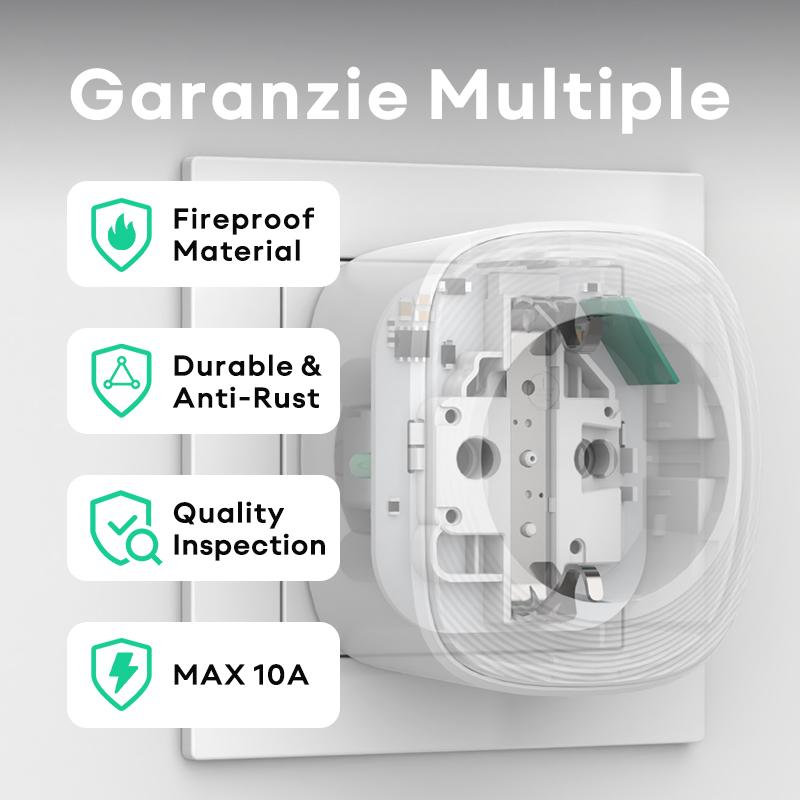 Multiple Safeguards
Certified by cTUVus and FCC, our plugs are safe to use in your home, with V0 grade fire-resistant materials, overload protection and long lasting reliability.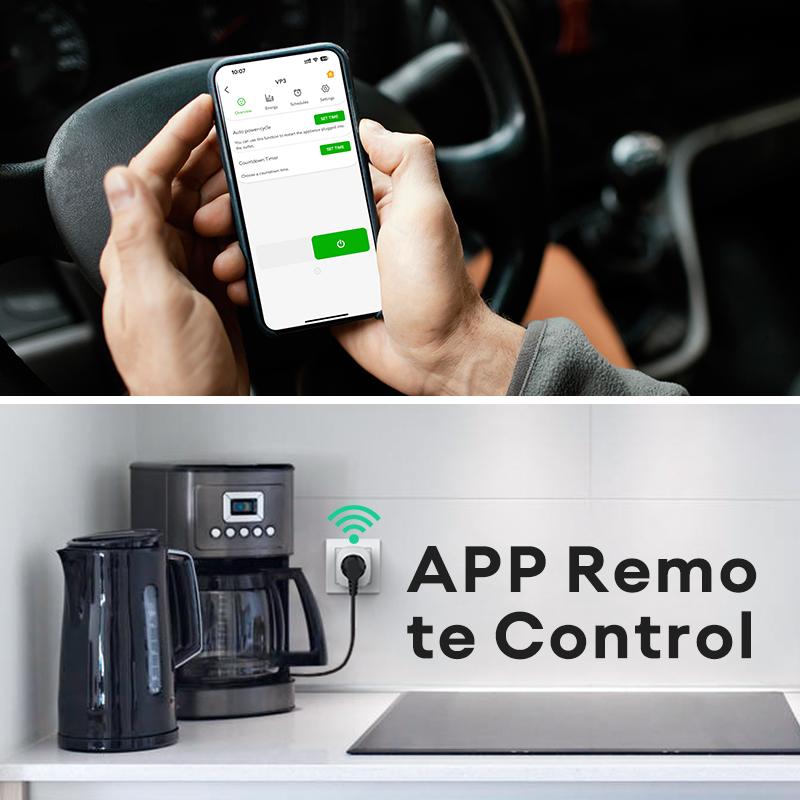 Remote Access
Check status, control, set schedules, and more from nearly anywhere with the internet via the VOCOlinc app. An Apple home hub (Apple TV/HomePod) is needed for HomeKit remote control.
Voice Control
Vocolinc smart plugs work with Apple HomeKit, Amazon Alexa, and Google Home. By simply using vocal commands, your choice of voice assistant will switch on/off your connected electrical devices. The status will then instantly sync across all smart home ecosystems.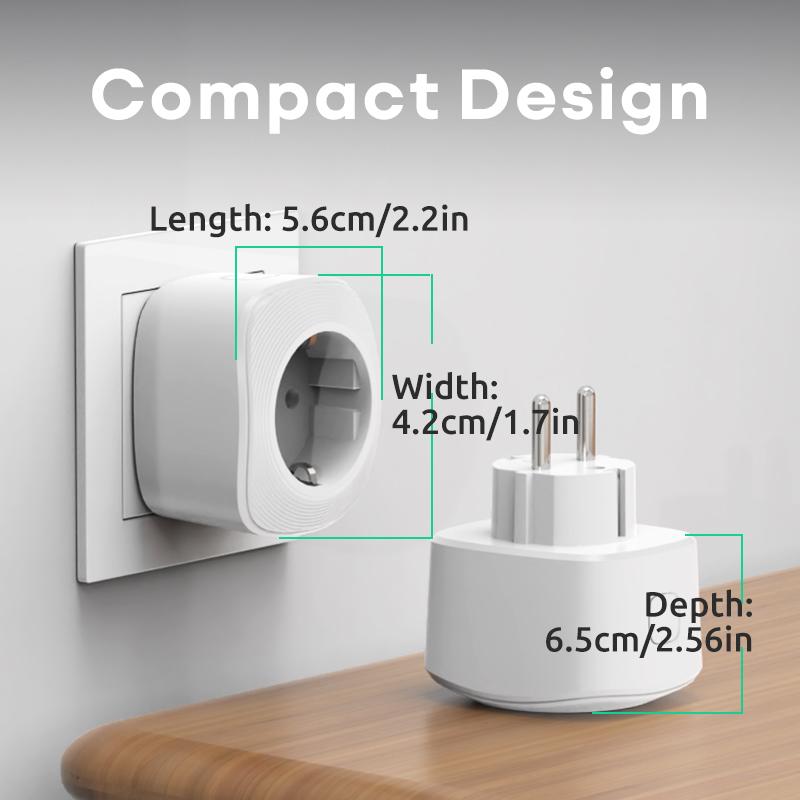 Compact Size
Durable Quality with Compact Size(1800W): Mini size outlet socket never blocks off the second outlet, Certified by cTUVus and FCC. It supports electrical devices up to 15A while providing protection and quality assurance for you, your family, and your home.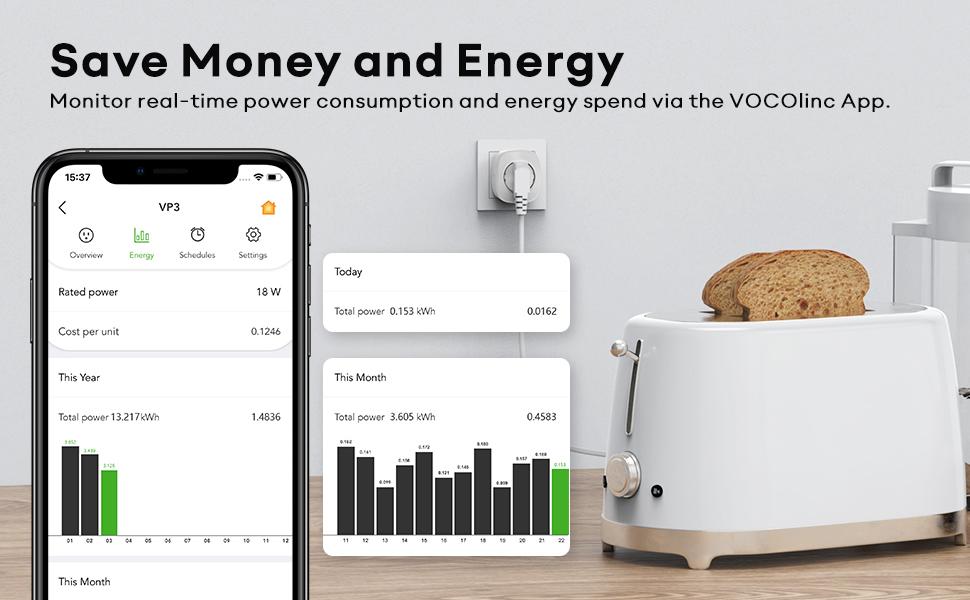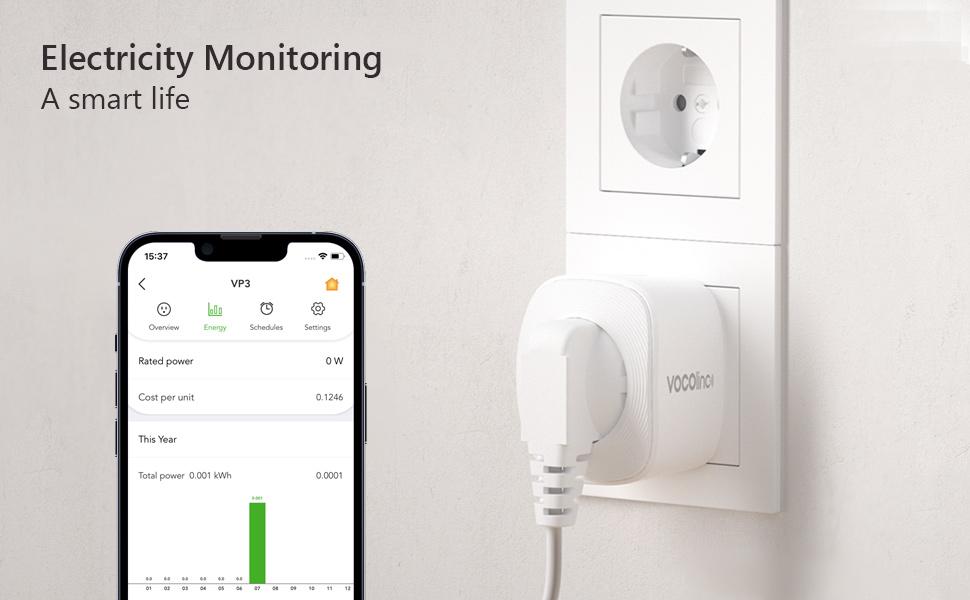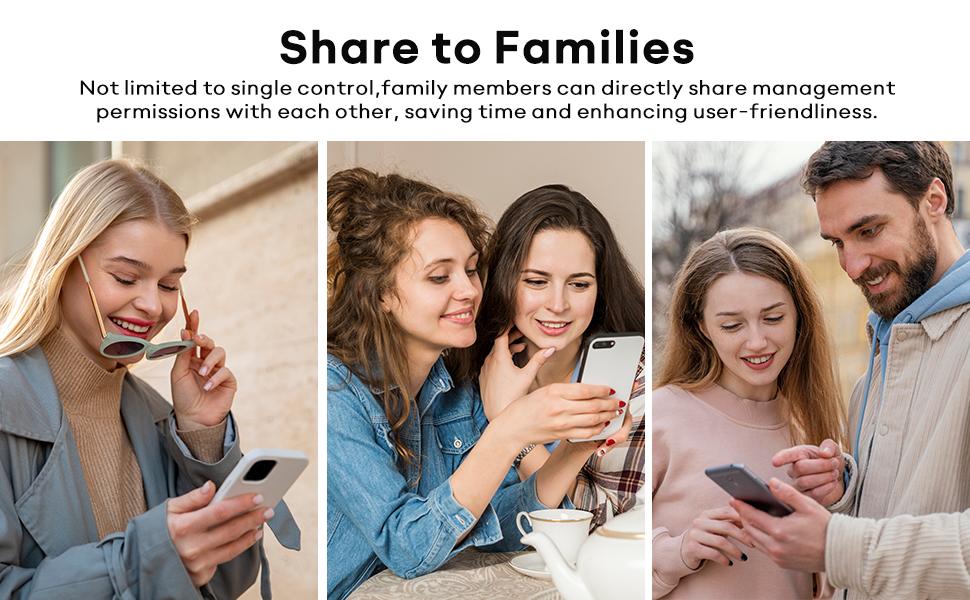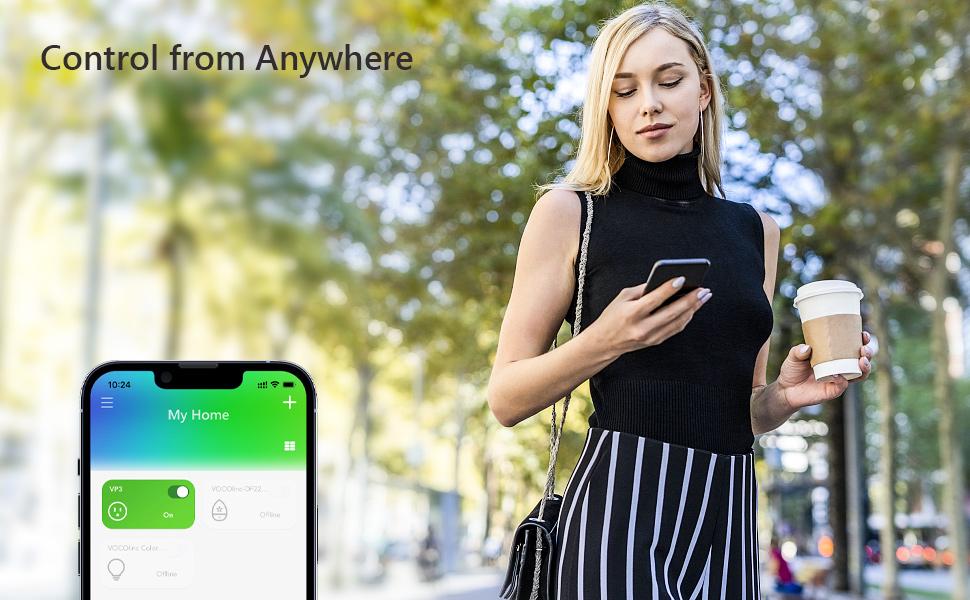 Excellent smart plug
This Apple HomeKit compatible smart plug works like a charm! It is compact but solid and were easy to configure. Very practical is de scheduling option and energy measurement option. A random option in the scheduling would have been handy.
Work's nice. Easy installation.
Simple et facile installer, marche trs bien
Le carton comprend la prise et un petit manuel.
Attention ces prises sont au standard allemand pour la prise femelle, ?a marche quand mme avec la terre des prises fran?aises.
Linstallation pour HomeKit dApple est super facile:
On branche,
Sur lapplication Maison on clique sur ??ajouter un accessoire?? et on scanne le QR code au dos du petit manuel du produit.
Et voil, ?a marche. A noter que la consommation de lappareil branch sur la prise nest visible que si on utilise lapplication VocoLinc.
Me ha gustado
********* Producto:
Enchufe inteligente
********* Paquete:
Ha llegado bien protegido y con proteccin, muy contento con ello.
********* Envo:
Apenas ha tardado dos das laborales en llegar, tal y como prometa, muy satisfecho.
********* Estado:
Nuevo.
********* Motivo de la compra:
Estoy domotizando la casa poco a poco y ahora era el turno de los enchufes.
Vi este producto y me pareci una buena opcin ya que para que enciendan y apaguen van bien, adems que es una forma econmica de cumplir con la domotizacin.
********* Descripcin del producto:
Pues est bastante bien, se ve calidad, aunque lo que es el enchufe en si es bastante grueso y sobresale bastante de la pared, pero teniendo en cuenta lo que es, es entendible.
La conectividad con la aplicacin es fcil y ya la aplicacin se conecta con Alexa, por lo que bien, aunque esto de depender de un tercero y que siempre funcione no me hace mucha ilusin.
Por el momento no me ha dado ningn problema y siempre ha respondido a las rdenes.
********* Ventajas:
-Buena calidad
-Funciona muy bien
********* Desventajas:
-Algo grueso
********* Conclusin:
Me ha gustado mucho, me ha parecido muy buen producto y funciona como yo quera.
**************************************
?Qu significan las estrellas que he puesto?
1 - Producto de muy mala calidad y no se ajusta a lo esperado
2 - Producto de mala calidad que cumple con lo esperado
3 - Producto normal, no destaca en nada
4 - Producto bueno, cumple con mis expectativas y adems tiene calidad
5 - Producto extraordinario, ms calidad que productos similares y buena relacin calidad-precio