Hands-Free Voice Control & APP Remote Control:
 compatible with Apple HomeKit, Google Assistant, and Alexa,  it allows you to control this floor light hands-free with simple voice commands. For example, you could ask Alexa to turn off the light. Support APP remotely control, Control the smart floor lamp anytime, anywhere via app.(please notice: It only works with a 2.4GHz network, not 5G)
Stepless Dimming & 5000 Colors Temperature:
 support adjusting the brightness from 0% to 100%, allowing you to customize the brightness according to your needs. The color temperature covers from cool white to warm white, enabling you to adjust the color temperature from 2700K to 6500K. Provide you with comfortable light and protects your eyes.
16 Million Colors & Million Lighting Effect:
 VOCOlinc floor lamp provides 16 million colors for you to choose from, which helps to create a cozy and inviting living space. It creates a colorful atmosphere with one million dynamic lighting effects. You can DIY different lighting effects via the app, which allows you to switch suitable theme lighting according to different scenes, perfectly fitting your home, including the living room and bedroom.
Music Modes & RGBIC:
 With a built-in high-sensitivity microphone equipped with 4 music modes, the color of the led lights will change automatically with the rhythm of the music, applicable for creating a romantic, relaxed, and party atmosphere. Compared to other floor lamps that can only display a single color, VOCOlinc floor lamp displays multiple colors on one line at a time; set different colors for your floor lamp via the APP.
Timer & Schedule & Easily Install:
 It can be used as a light alarm clock. You can set the end time to turn it on/off automatically. The schedule function helps you preset your favorite color and brightness to turn it on automatically. Floor lamps reach a height of 57.2 feet, adopting the simplest connection method, plug, and play. You can install the lamp in 5 minutes by yourself.
Shipping:
The product will ship 1-3 business days after purchase, and delivery will take 4-8 business days. All orders will be dispatched from our EU warehouse.

Refund:

30-Day Refund Policy

For any reason, undamaged products can be fully refunded within 30 days after the delivery date to the shipping address. Once the item is returned to Vocolinc's warehouse for inspection, the refund process will begin.

Please go to the footer menu to view the shipping policy and return policy.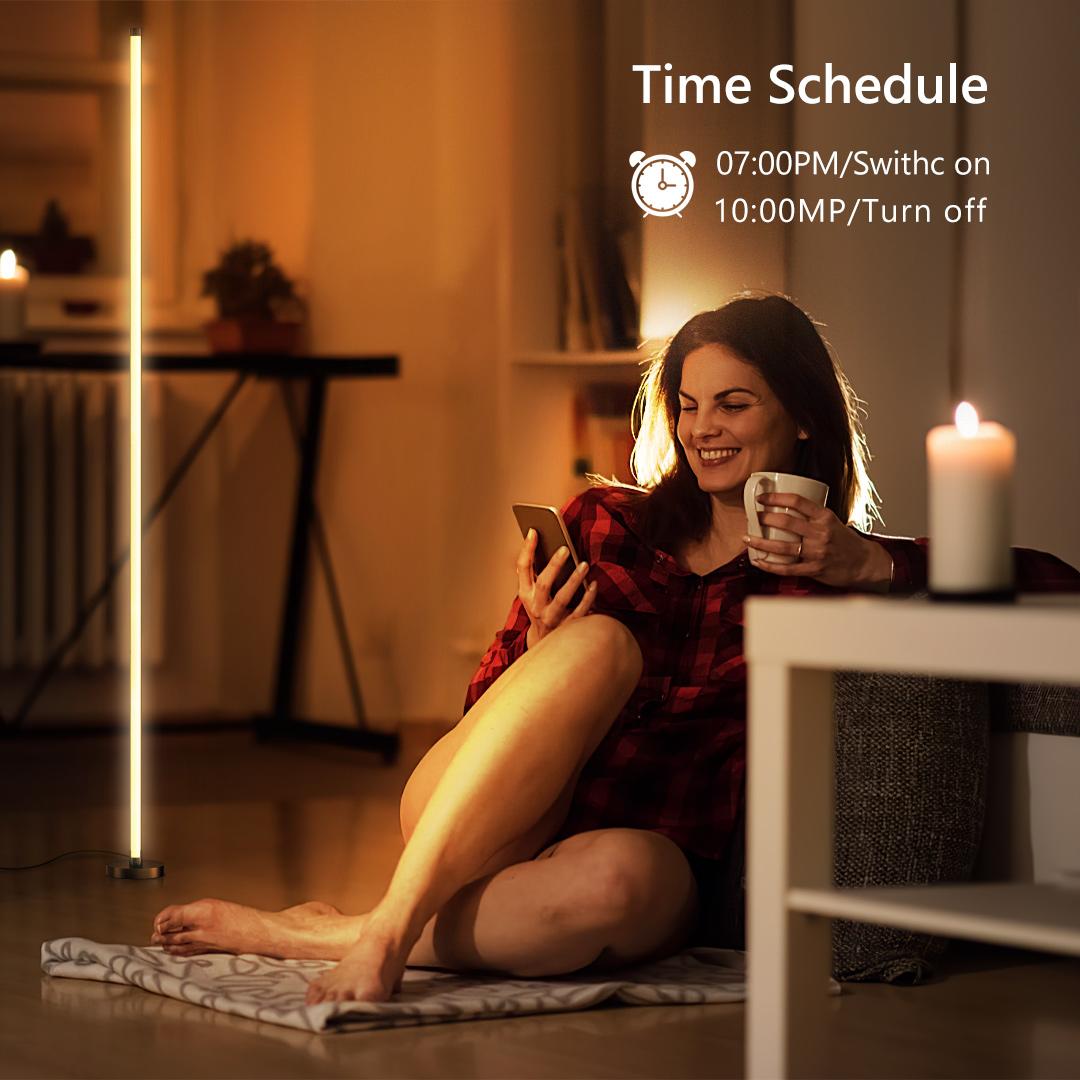 System Requirements
Before pairing, ensure you iOS/Android device is in the latest version and your Wi-Fi router is
2.4 GHz capable (5 GHz is not supported).
Adding Instructions
1. Download the VOCOlinc app from the App Store (iOS) or Google Play (Android).
2. Open VOCOlinc, tap the "+" icon in the top right corner to enter the "Add Accessory" page.
3. Tap "Lighting" and select "FL2201". Read the onscreen notes and confirm to the next step.
4. For iOS devices, scan the following QR code on the lamp's control box to search for and add the accessory, while Android devices will automatically search for the accessory and finish adding.
Note: If you fail to add, read the "Tips" and follow the instructions. You can also tap "Help" or "Contact VOCOlinc" for
further questions or go to "User" page and tap "FAQ" or "Contact customer service".

1. Download Amazon Alexa app from the App Store (iOS) or Google Play (Android). Register and log in your account.
2. Open VOCOlinc app. Tap "user" and "3rd party connection", select "Link to Amazon Alexa".
3. Tap "LOGIN WITH AMAZON". Tap "Link" in Amazon Alexa app. If "Status - Account Linking
Succeeded" pops up in VOCOlinc app, then the VOCOlinc Skill is linked to Amazon Alexa.
4. Open Amazon Alexa, tap "More" to enter "DISCOVER ALEXA" page to check "Your Skills". Tap "VOCOlinc" to check your devices added and wait for devices syncing to Amazon Alexa.
5. Now you can speak to Amazon Alexa to control your devices remotely

1. Download Google Home app from the App Store (iOS) or Google Play (Android). Register and log in your account.
2. Open VOCOlinc app. Tap "user" and "3rd party connection", select "Link to Google Home".
3. Tap "GO TO LINK" to open Google Home app and tap the "+" on the top left corner to enter "Add and manage" page.
4. Tap "Set up device" and select "Works with Google".
5. Search for "VOCOlinc" and sign in your account. If "VOCOlinc is linked" pops up, then the VOCOlinc is linked to Google Home.
6. After all devices added to VOCOlinc are synced to Google Home, you can enjoy the hands-free control.
Long press for 10 seconds
1.Do not install or operate this light with wet hands or standing on damp surfaces.
2.Do not put this light near potentially dangerous sources, such as candles and liquid-filling objects.
3.This light is not compatible with other dimmers and its brightness can only be adjusted via theapp within the environment temperature between 0°C and 40°C (32°F and 104°F).
4.This product is not waterproof and its components must be kept away from splashes, water drops, or every high-humidity environments.
5.Do not risk your safety by taking apart or repairing this product by yourself.
6.The light, the power adapter, and the control box must be used together as a full set.
7.Do not clean with this product with water. If water enters the lamp, it may cause failure or electric shock.
8.If the product is knocked over during use, turn it off immediately and unplug from power.
9.The lamp, the power adapter, and the control box must be used together as a full set.
10.This product is not for emergency lighting. Household use only.
SoooOOOoooo much better than I though it would be
Fast delivery bla bla bla ... anyone looking to buy this wants to know does it work the way it's advertised .. its actually Better! It has what seems like endless combinations of colors, download the app (smart light) & start playing. We have had so much fun with it. And yes very east to install. I want more of these around my living room wow!
Great value for the price!
Very sturdy and only took about 20 minutes to put together and have running.
Fun, but not bright
The app is super easy and lots of options. It does look great with my monitor backlighting also by govee, which I love! I wish the two could be controlled simultaneously though from the app. It's easy to put together despite any negative reviews, just follow the instructions! The housing seems strong, and I love that it's minimal and small enough to fit into any space. My only complaint is its little less bright than I had hoped for no matter what setting, adjusted fully to 100%. Despite my bed being next to the lamp its barely bright enough to read a book by, the dim salt lamp is even more effective. If you're looking to add personality to your room its great, especially if bought on sale.
Very Fun,
These were easy to assemble with the exact instructions on how to put together. Very fun to use and look great.
Looks great
Modular and easy to set up